Hauppauge Store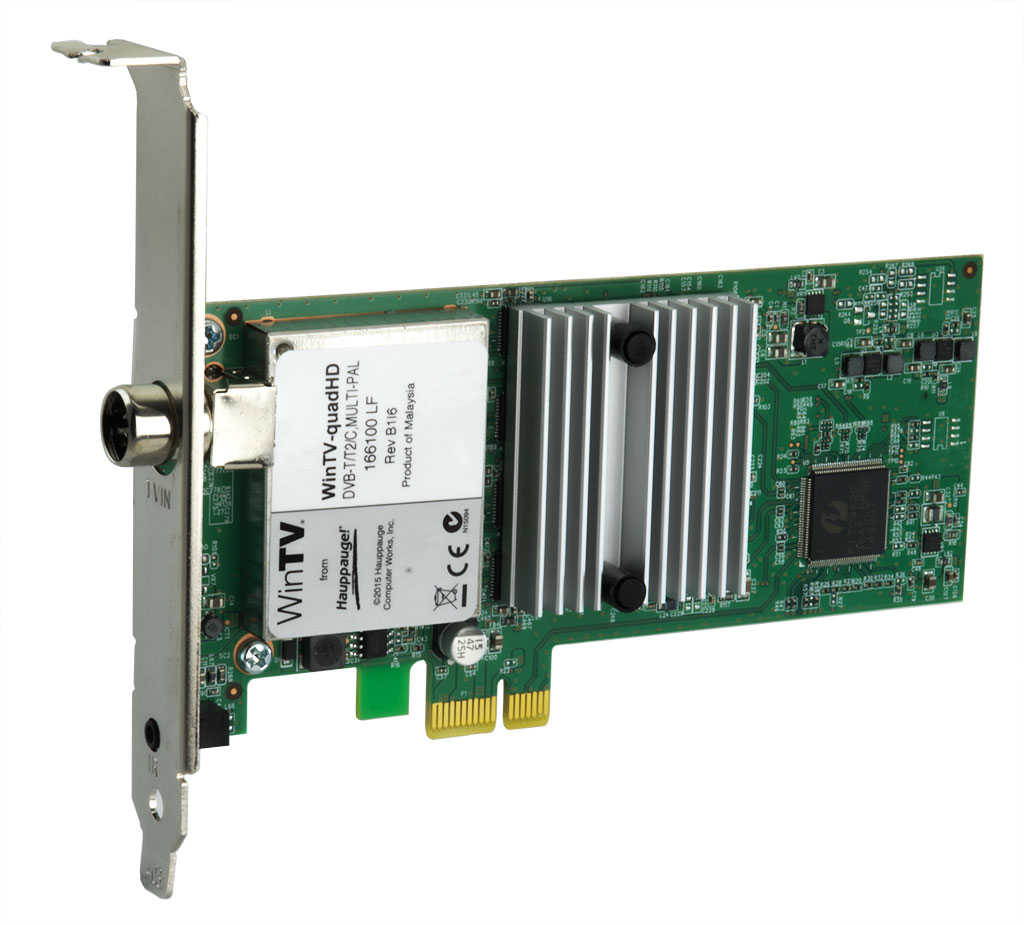 WinTV-quadHD PCIe board
4 tuners each: Freeview HD, Freeview and DVB-C digital cable
A four tuner HD digital TV receiver for your Windows PC
Three TV formats: Freeview HD (DVB-T2), Freeview (DVB-T) and free-to-view digital cable (DVB-C)
Half height PCI Express board for full height and half height chassis
Record one TV program while watching up to three more TV channels.
Record up to four TV programs at the same time
Have picture-in-picture using the included WinTV v8 application. Or have up to four TV windows on your PC screen at the same time!
WinTV-quadHD board
Four tuners on one half height PCI Express board. WinTV-quadHD will fit in both full and half height PC's
Watch, pause or record up to four Freeview HD (DVB-T2), Freeview (DVB-T) or digital cable DVB-C HD TV programs at the same time
Includes a Hauppauge remote control, with 1 meter IR receiver cable
Includes the WinTV v8 application, which give you TV-in-a-window or TV full screen, plus picture-in-picture
Included in the box
WinTV-quaHD: Four tuners each of DVB-T2, DVB-T and DVB-C
Hauppauge remote control and 1 meter IR receiver
Half height bracket (full height bracket is installed at the factory)
WinTV v8 application for quad tuner Picture-in-Picture (software download)
Freeview HD (DVB-T2) over-the-air digital TV features:
Freeview HD (also called DVB-T2) is free over-the-air HD TV. Freeview HD is broadcast in the UK and some other countries in Europe, and does not require a subscription. Freeview HD is high definition and FREE!
WinTV-quadHD has four Freeview HD over-the-air digital TV tuners. Supports all Freeview HD formats, up to the highest HD format (MPEG-4 at 1080p30)
Watch, pause or record up to four Freeview HD digital TV programs using high quality MPEG-4. TV recordings will typically consume 5 GB of disk space per hour for Freeview HD
Built-in antenna splitter allows you to make one connection to an aerial but watch and record up to 4 channels


Freeview (DVB-T) over-the-air digital TV features:
Freeview (also called DVB-T) is free over-the-air standard definition TV. Freeview (DVB-T) is broadcast throughout Europe, and does not require a subscription
WinTV-quadHD has four Freeview over-the-air digital TV tuners
Watch, pause or record up to four Freeview HD digital TV programs using MPEG-2. TV recordings will typically consume 2 GB of disk space per hour for Freeview
Built-in antenna splitter allows you to make one connection to an aerial but watch and record up to 4 channels
DVB-C digital cable TV features:
Quad clear QAM (DVB-C) digital cable TV receivers. Watch and record up to four clear QAM digital cable TV channels at the same time
Built-in cable TV splitter allows you to make one connection to cable TV
Note: not all cable TV networks send clear QAM channels. Please check with your local cable operator for the availability of clear QAM digital cable TV