Features
HD PVR 2 model 1512 - now with optical audio in plus IR blaster to control your cable or satellite set top box!
Record HD video from a cable or satellite box, or game play from a PC, Xbox®360 or PS3®
Upload gameplay to YouTube with one click. Show your best gameplay to your friends!
Record up to 1080p while you play your games on your HDMI TV set. Includes our no delay pass through, so you can play while you record in HD!
Now includes StreamEez, so you can live stream your video game play. Create a Twitch or Ustream channel with StreamEez!
Includes a built-in Record button, so you can start and stop your recordings without having to be at your PC. Plus with our Personal Logo inserter, you can add your own logo to your recordings and Twitch and Ustream channels.
HD PVR 2 overview
HD PVR 2: your personal high definition video recorder!
HD PVR 2 records video at up to 1080p from a satellite or cable TV set top box, a PC game system, Sony PlayStation® 3, Wii U or Microsoft Xbox® 360. HD PVR 2 can record from either HDMI (without HDCP protection) or Component Video at up to 1080p.
Once you have made your recordings, you can share them with your friends on YouTube or you can burn them in high definition onto a disc for playback on a Blu-ray player.
Amazing HD audio and video quality
HD PVR 2 uses the newest generation H.264 video encoder and records at resolutions up to 1080P30. The H.264 format is used by Blu-ray discs and exceeds other video compression standards in quality and disk space consumption, providing a crisp image and amazing digital sound. H.264 uses 1/3 the disk space compared with the popular MPEG-2 format.
And with HD PVR 2's S/PDIF optical audio input, your audio will be as amazing as the video!
HD PVR 2 for PC gamers: your personal HD recorder for your game play
Record your best gaming moves without slowing down your PC. The video compression is done inside HD PVR 2 so you can record your PC game play in HD without slowing down your PC.
Make your own HD movie library from cable or satellite TV
Create a HD library of your favorite TV programs by burning up to 2 hours of HD PVR 2 video onto a standard DVD-R disc.
Record your favorite cable or satellite TV programs in HD. Includes an IR blaster to control the channel changing on your set top box
Connect HD PVR to your satellite or cable TV set top box via the HD component cables (supplied). With the TV scheduler and IR blaster, HD PVR can change the channel on the set top box and record the selected program. Hauppauge's TV Scheduler provides a easy way to schedule your TV recordings. Create a schedule of weekly or once only recordings, and HD PVR will record them automatically! Find your favorite movie, sports event or show, schedule it and let HD PVR 2 take over!
Record your best PC game play in HD. Upload to YouTube and share with your friends!
HD PVR 2 records PC game play in HD using HDMI. You can also record Xbox 360, PS3 and Wii U game play. And HD PVR 2's HD video passthrough means you can record and watch your game play at the same time, with no delay! HD PVR 2 captures videos in a format which is perfect for uploading to YouTube.
Specifications
Technical specifications
Hardware encoder:

H.264 AVCHD high definition video encoder, video encode to 1080p30 from HDMI or component video.
No delay HDMI pass through: HDMI or Component in to HDMI out, up to 1080p.
Recording datarate: from 1 to 13.5 Mbits/sec.
Recording formats: MP4 or TS.
Video down conversion.

Input/output connections:

HDMI in from HDMI sources without HDCP (Xbox 360 or PC game console).
Component video in, with stereo audio.
SPDIF optical audio in.
IR blaster out to control channel changing on a set top box.
S-Video and composite video in, with stereo audio (requires an optional cable).
HDMI output.

Size: 6 in wide x 6 in deep x 1.5 in high.
Power: 6V at 1.6 amps.
Weight: .75lb / .34 kg / 12 oz.
Recording formats:

1080p60p (recorded as 1080p30)
1080p50p (recorded as 1080p25)
1080i60
1080i50
720p60
720p50
480p60
480i60
576p50
576i50
Bundled software applications
Hauppauge Capture, with these features

Video capture for recording video game play, with game commentary and Facecam
Trim your videos
Upload videos to YouTube
Stream videos with Twitch and YouTube

WinTV v7, with TV Scheduler and IR blaster so you can record TV from a cable or satellite box.
Hauppauge SteamEez software, to stream your game play to Twitch or Ustream.
Hauppauge's Personal Logo inserter, to burn your logo into your recordings and your video streams.
System Requirements
Laptop or desktop PC with 3.0 GHz single core or 2.0 GHz multi-core processor.
Microsoft® Windows® 8, 7, Vista or Windows XP Service Pack 3.
HD TV set with HDMI in (optional, for use with pass through).
512MB RAM (1 GB recommended).
Graphics card with 256 MB memory.
Sound card.
220MB free hard disk space.
CD-ROM drive (for software installation).
Model numbers:
model 01507: HD PVR 2 with English manual
Included in the box
HD PVR 2 high definition H.264 personal video recorder, USB 2.0
6V 1.6 amp power supply
USB cable - 9 ft.
2 meter HDMI cable to connect to your TV monitor
2 meter IR blaster cable
Component video cable with Hauppauge A/V adapter cable, to connect to your cable or satellite box
Installation CD-ROM
Quick installation guide
Note: HD PVR 2 will not record video from HDMI with HDCP copy protection.
HD PVR 2 connection diagrams
HD PVR 2 has "no delay passthrough" so you can play your video game while recording. To use the no delay pass through, simply connect HD PVR 2 between your game console and your HD TV set. HDMI output is provided to make it easy to connect to your TV monitor.
For recording HD TV programs from a cable or satellite TV box, HD PVR 2 includes an IR blaster which can change the channels on your set top box. Use the included WinTV application to schedule recordings of your favorite TV programs and the IR blaster will change to the correct channel for the recording.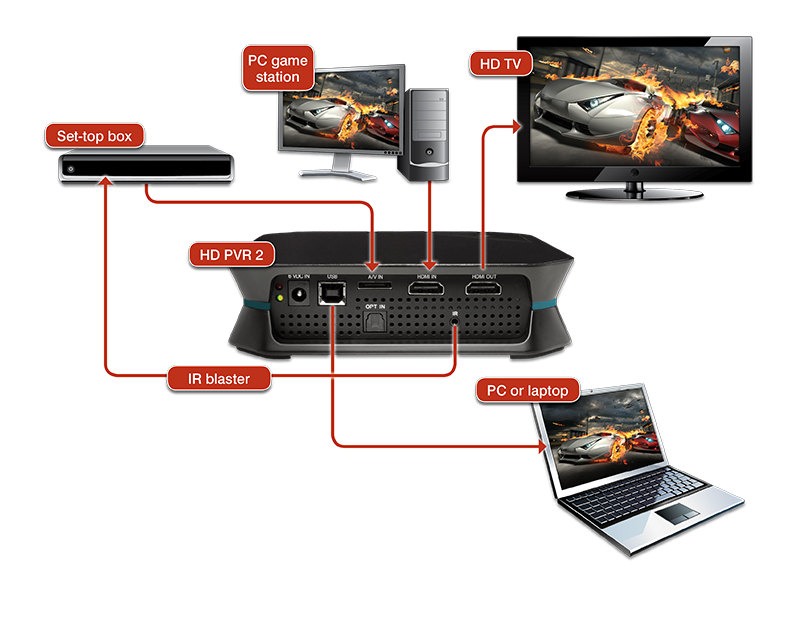 Manuals
Tutorial on editing HD PVR 2 recordings with Sony Vegas

Video tutorial on editing HD PVR recordings with the Sony Vegas Editor
Frequently asked questions
HD PVR 2 Videos
Record retro games with your HD PVR Rocket
Record retro games with your HD PVR 2
HD PVR 2 featuring PlayStation3
HD PVR 2 featuring Xbox 360
Record in-game chat on the PS4
How to: Record game commentary with a Turtle Beach PX21 headset and an Xbox 360
How to: Record game commentary with an Turtle Beach PX21 headset using a PS3
How to: Record game commentary with an Astro A50 headset using Hauppauge Capture and a PS3
How to use the HD PVR 2 to stream with YouTube
Enable in-game chat on the PS3
Third Party applications for HD PVR 2
Use HD PVR 2 with a Mac.
Capture4ME is compatible with HD PVR 2. It is an easy-to-use application that focuses on the core goal of capturing video. The Capture4ME app has the ability to trim the beginning or end of a recording, and also an 'Upload to YouTube' function for those that want to share their videos online.
StreamEez for HD PVR 2
StreamEez: stream your video gameplay with Twitch, Ustream and YouTube
StreamEez version 33029

File name: streameezsetup_1_0_33029.exe
Date: January 29, 2015
File size: 117 MB
New features in this version
For Twitch users: add your channel name and pause for a commercial break
For YouTube users: fixes problems with YouTube recording of video streams
For Ustream users: the login now works again
Adds an automatic re-connect mode, to re-establish streaming when your Internet connection is momentarily lost
Adds streaming support for the HD PVR Rocket
To install this version of StreamEez:
Click on the download link. You will be given an option to Run or Save the file. Click Save to save the file in your Download folder.
Run this file. It will install the StreamEez-Pro application plus the Windows driver.
When finished running the update, you will be ask to restart your PC. Restart your PC
While the PC is restarting, power cycle your StreamEez device to load the new firmware (remove power from the unit for a few seconds and then plug it back in).
When your PC has rebooted, double click on the StreamEez-Pro icon.
Under Source (upper left hand corner), make sure it is set to your Hauppauge device.
If your cables are connected, you should now be able to stream with Twitch, Ustream or YouTube.
Video on how to use StreamEez
YouTube video
How to setup YouTube streaming with StreamEez
YouTube streaming with StreamEez
Some tips on using StreamEez
Step 1

Before you change any settings, make sure you are Off Air and the Lock button is unlocked (just click on the button to unlock).
Choose your Video Source. Xbox 360 normally uses HDMI while PS3 normally uses Component.
Choose your Audio Source. Xbox 360 normally uses HDMI while PS3 normally uses Line.
In Quality Profile, the default is High Bandwidth. Depending upon the uplink speed of your Internet service, you may need to change to Medium or Low bandwidth. A laggy or jerky stream means your uplink speed is too low and you need to choose a different Quality Profile.
If you would like to preview your video in StreamEez, make sure the slider under the preview window is set to 'Normal speed'. You should now see your video in the preview window.

Step 2

Then choose your Stream Service, either Twitch, YouTube or Ustream. ( You must have an account setup with the stream service you wish to use)
In Channel, select Login. Enter your Login and Password. You will see a message "Gathering credentials" as we check your user name and password.
Once your user name and password are confirmed, you will see the URL of your stream in the box "Copy stream link". If you click on the words "Copy stream link", the URL will be copied to the clip board.

Step 3

Leave the Network Connection as the default

To start streaming

To start streaming, click the red dot next to "Off Air." The indicator should be changed to "On Air" and you will now be streaming live over the Internet!
Once you are On Air, you cannot change any settings. You need to stop streaming by clicking the green dot next to On Air to stop the stream.