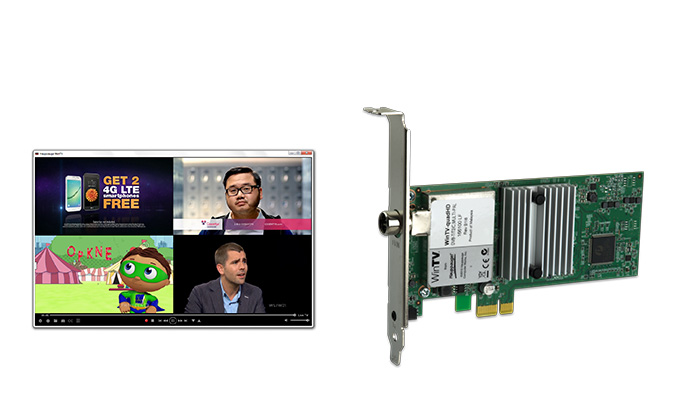 WinTV v8.5

WinTV v8.5 is the new TV application from Hauppauge.

For TV in a window or full screen on Windows 10, 8 and 7. It has a new look and new features, plus support for WinTV Extend. New features include 4-tuner Picture-in-Picture (PIP) with the WinTV-quadHD, and 2-tuner PIP for the WinTV-dualHD.

WinTV-quadHD

Four ATSC over-the-air HD TV and digital cable (QAM)) tuners on a half height PCIe board.

Includes the latest WinTV v8, with 4 tuner Picture in Picture!

WinTV-dualHD

Two digital TV tuners in one small USB device

Two ATSC tuners plus two clear QAM tuners. Includes the new WinTV v8 app for picture-in-picture

WinTV-HVR-5525

"6-in-1" HD TV card

Ideal for cable, satellite and digital terrestrial TV.

Hauppauge Capture

Record video in HD

Record, trim, upload and stream your videos in HD. Includes StreamEez, Skipback and Facecam.

HD PVR Pro 60

HD video recorder and streamer for 4K game consoles.

4K 60 fps in/out, with lag free pass through: play your 4K games on your 4K HDMI TV set while you record in HD. Record and stream at 1080p 60fps. Built-in down scale from 4K to 1080p60. Built-in H.264 1080p60 encoder for high performance recording and streaming. Stand alone or PC connected.

HD PVR Rocket

Portable HD video recorder

HD PVR Rocket is small enough to fit in your pocket. Carry it to gaming events to record your best game play. Record and stream your video game play in HD, at home or anywhere you play! Comes with StreamEez for Twitch and YouTube streaming.

Colossus 2

The Professional High Definition Video Recorder

Colossus 2 is our next generation PCIe H.264 HD video recorder, and has the same studio quality H.264 encoder that's used in the HD PVR 2.

mySmarthome Voice Bulb

mySmarthome Voice Bulb.

No hub required. Works with Amazon Alexa and Google home

mySmarthome Voice Plug

mySmarthome Voice Plug

No hub required, works with Amazon Alexa and Google Home, UL and CE approved

Satellite TV tuners

Hauppauge has a great selection of satellite TV receivers for your Windows PC.

Both internal and external satellite TV receivers.

Recording VHS tapes?

The best solution for recording old VHS tapes is the WinTV-HVR-1950

Inside the WinTV-HVR-1950 is a video stabilizer and a high performance MPEG-2 encoder to give you the best results recording from VHS tapes.